Explore Midtown – Your Way!
September 29th, 2023
In Midtown, you'll find a treasure trove of hidden gems, cozy coffee shops, dynamic art galleries, and enticing restaurants. The best part? Everything is just a short walk or bike ride away. Hop on board as we uncover why traveling Midtown by foot, bike, or scooter is not only easy but is the ultimate route to endless fun and how we are making getting around Midtown even easier!  
Midtown has a community walking score of 94 and a biking score of 99, making it one of the most accessible districts in Sacramento. Bonus, there are plenty of micro-mobility options like scooters and bikes making getting around even more convenient.  
In Midtown we have 15 key destination centers, each one with its own personality and business mix. To educate residents and visitors about the ease of travel, Midtown Association, along with our dedicated partners Safe Credit Union and SACOG, are installing wayfinding posts at each destination center. These colorful posts will serve as your navigation companions, showing you the distances to nearby destinations by foot or bike. Linked to an interactive website, they provide a sneak peek of what awaits you – whether it's dining options, coffee joints, or shopping. 
The installation of the new wayfinding posts throughout Midtown will help residents and visitors confidently navigate and explore our city in an easy and fun way and connect our key Midtown destination centers. Whether you're exploring the Alhambra District, relaxing in Fremont Park, checking out the historical Governor's Mansion or experiencing the lively Lavender Heights, every center offers a unique slice of Midtown's charm. The wayfinding posts make navigating between these centers a breeze. Read on to learn more about each one of our unique and vibrant activity centers.  
Click below to learn about a specific activation area:
Alhambra District | Governor's Mansion | Fremont Park | Handle District | Lavender Heights at Midtown Central | Golden Hub at Midtown Central | Marshall Park | Midtown Sutter | Muir Park | Sutter's Fort | 29th & R Streets | Truitt Bark Park | Winn Park | SAFE Credit Union Memorial Auditorium | SAFE Credit Union Convention Center
Midtown's

Must

Visit Destinations:
Alhambra District
Home of the historic Alhambra Theatre, find an exciting fusion of coffee culture, diverse dining experiences, dynamic nightlife, and unique public art in the Alhambra District. Explore a variety of cuisine, happy hour, and coffee at places like Hawks Provisions & Public House, Limelight Bar & Cafe, Jayna Gyro, Obo Italian, Sushi Cafe, La Fiesta Taqueria, and many more.
It will be hard to miss the blossoming public art along Alhambra Boulevard, featuring new installations such as an abstract mural by Lena Mac at 1400 Alhambra Boulevard, a Sacramento Kings "Light the Beam" themed mural at 3001 L Street, eye-catching bike racks adorned with the Alhambra emblem, and seven stunning utility box art wraps that embody the district's unique energy.  
The Alhambra District is a must-see destination for those seeking a delightful blend of culture, cuisine, and creativity. 
Governor's Mansion
Explore the Governor's Mansion in Midtown. Dating back to 1877, the historic estate was acquired by the Californian government in 1903 and has since been home to 14 esteemed governors.  
While the Governor's Mansion Museum is temporarily closed to the public, there is no shortage of coffee, dining, and art nearby to make your visit worthwhile. Visit popular local coffee shops like Goodside Coffee and Milka Coffee Roasters or dine at hidden gem restaurants like Sampino's Towne Foods and Bambi Vegan Tacos, all within a short stroll from the Governor's Mansion. You can even participate in the self-guided Midtown Mural Walking Tour to see close by murals like the "A Journey Into Curiosity" by Ashop Crew or a beautifully painted abstract piece located on the side of the 17 Central Apartments.  
Discover the fusion of art, history, and vibrancy that surrounds the Governor's Mansion. 
Fremont Park 
Welcome to Fremont Park, one of Midtown's six parks, found in the heart of a bustling urban hub in Midtown. At this family-friendly park, you will find a children's playground, complimentary Wi-Fi, and captivating public art installations.  
Throughout the year, Fremont Park comes alive with a diverse range of events including Midtown's Second Saturday, free fitness programming, concerts, chalk festivals, artisan markets, movie nights, and more. Explore the park to find eight beautifully wrapped electrical pedestals covered in art by local artist Melissa Uroff and unique sculptures that bring the park's vibrance to life.  
Just steps away from the park's perimeter, you will discover a selection of dining, coffee, and happy hour spots like Temple Coffee, Magpie Cafe, Karma Brew, Ramen 101, and Orchid Thai to grab food to-go and have a Midtown park picnic day. 
Handle District
At the Handle District you will discover a business district in Midtown encompassing the vibrant streets of 18th and 19th Streets, L Street, and Capitol Avenue. Within just four blocks, you'll find a diverse collection of dining options, happy hour spots, and shopping experiences. Experience the various Farm-to-Fork restaurants including the Aioli Bodega Espanola, Mulvaney's B&L, Zocalo, and Pazza Notte.  
Enjoy enticing happy hour specials at spots like Fieldwork Brewing, 58 Degrees & Holding Company, and Saigon Alley Kitchen & Bar. For those with a sweet tooth, satisfy your cravings at Yogurtagogo, Bober Tea & Coffee, and Old Soul Co. Experience a Midtown shopping adventure with boutique stores such as Strapping, Ladybuggz, and Scout Living, among others.  
Throughout the year, the district comes to life with a variety of engaging events including Dress Up, Wine Down, the Bastille Day Festival, Second Saturday celebrations, and more.  
Lavender Heights at Midtown Central
Discover the vibrant spirit of Sacramento's Lavender Heights District at Midtown Central, where there's always something exciting happening! From the legendary 916 block parties to the lively Second Saturday monthly block parties spanning May through October, this neighborhood is a hub of creativity and celebration. Be sure to visit the weekly Midtown Farmers Market, featuring over 200 vendors offering fresh produce, artisan crafts, and more.
Lavender Heights is also where the city's premier gay venues are located, making it a vibrant center for the LGBTQ+ community. Additionally, the area offers invaluable community resources, including the Sacramento LGBT Community Center (formerly the Lambda Center) and the Lavender Library. As a symbol of pride and inclusivity, a stunning rainbow crosswalk graces the intersection of 20th and K, highlighting Lavender Heights as a welcoming and diverse neighborhood that invites you to explore, connect, and celebrate life!
When it comes to dining and nightlife, Lavender Heights has an array of options to please your palate, with choices like LowBrau, Faces, Azul's, Good News Wine, Kin Thai Street Eatery,  Roscoe's, The Depot, Mangos, and The Mercantile Saloon.
Golden Hub at Midtown Central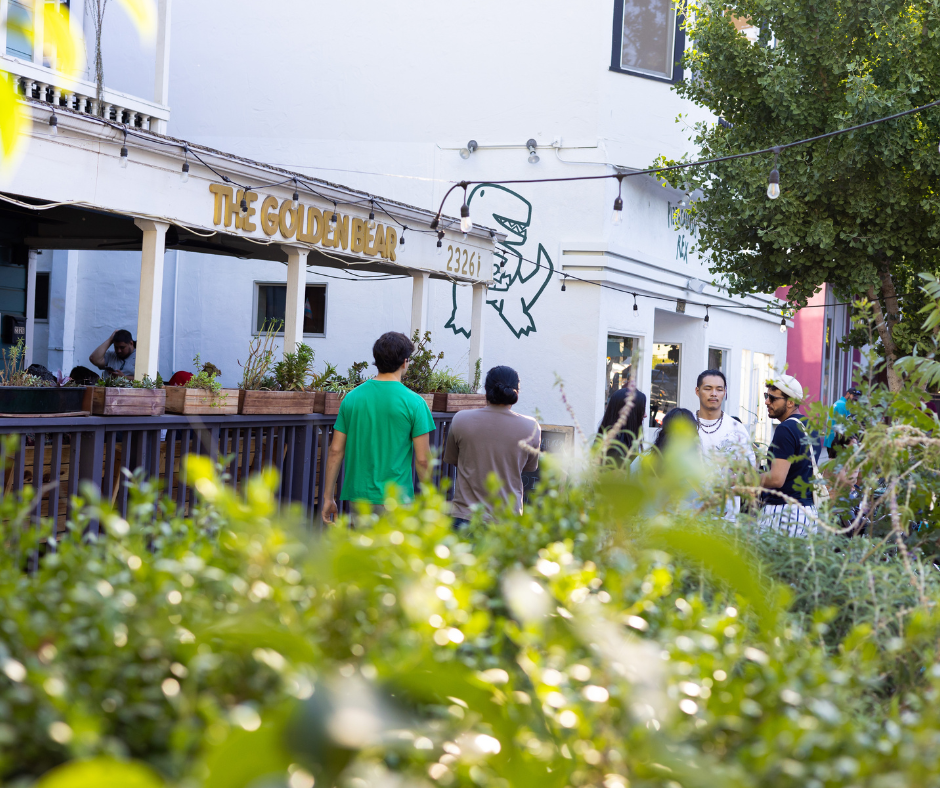 At the intersection of 24th & K Streets, visitors will find a vibrant block filled with dining, shopping and nightlife options – also known as the "Golden Hub." From historic homes transformed into trendy bars to shipping container beer gardens, every corner of the Golden Hub has something fun to explore.
One of the Golden Hub's most remarkable features is its rich diversity of art installations like the Disco Tree. With over ten artistic marvels within a single block, you'll find yourself immersed in a world of creativity and expression.
When it comes to dining and entertainment, the Golden Hub has it all. From the fully plant-based delights of Burger Patch, to mouthwatering pizzas at Pizzasaurus Rex, every restaurant offers a carefully curated menu and an opportunity for outdoor dining and live entertainment. Whether you're enjoying traditional Mexican street food at Cantina Alley, enjoying local craft beers or open mic night at Golden Bear, savoring German beer and sausages at Der Biergarten, indulging in handrolls and cocktails at The Flamingo House, or enjoying vegan eats at Mother, you'll find your taste buds dancing with delight.
The Golden Hub is also a hub of cultural festivities. Cinco de Mayo at Cantina Alleyway, Oktoberfest at Der Biergarten, and the Banana Sundaes street party hosted by Flamingo House, and a monthly Second Saturday (May-October) block party complete with a vibrant art market and live music are just a few of the lively celebrations that grace this neighborhood throughout the year.
Marshall Park
James Marshall Park is a charming 2.5-acre green space with a surprising amount of shade, making it a perfect refuge from the summer heat. The park features amenities like a playground, walking path, and adult fitness stations, catering to a range of interests. It's also home to the E.M. Hart Senior Center, providing a welcoming space for older adults in the community.
What makes this park truly special is its location across from popular dining and nightlife spots like Centro Cocina, Barwest, Blue Cue, and Harlow's. Whether you're looking for a quick dog walk or a peaceful lunch spot on a bench, James Marshall Park has you covered. Keep an eye out for events like the Midtown Halloween Festival and Pooch Parade in October and enjoy free fitness programs.
Midtown Sutter
Midtown Sutter is a captivating neighborhood that invites you to explore its rich history and vibrant culture. The enchanting district offers a delightful blend of art, dining and entertainment, making it a true hidden gem of Sacramento. At it's core lies the iconic Sutter's Fort State Historic Park. But don't stop there – venture beyond the fort's walls to explore the dynamic Midtown Sutter area. Here you will find an array of enticing options, from cozy neighborhood bars like Barwest, Inks Eats and Drinks and Blue Cue, perfect for catching the latest game or enjoying a friendly game of pool to charming dining establishments like Cafe Bernardo, Paragary's and Centro Cocina, where visitors can enjoy farm-to-fork cuisine. As for music and theatre enthusiasts, Harlow's or B Street Theatre are your go-to spots for finding live performances. You'll also find lodging option at two walkable hotel destinations; Fort Sutter Hotel and Hyatt House Sacramento.
Whether you're reliving childhood memories of school field trips or discovering your favorite new restaurant, Midtown Sutter invites you to savor its eclectic mix of culture, cuisine, and community.
Muir Park
Welcome to Muir Park, a 2.5-acre urban oasis offering a delightful children's park and a brand-new basketball court adorned with a vibrant mural that celebrates the diverse history and culture of the surrounding neighborhood, including its roots in the 1960's Chicano Arts Movement. Whether you're planning a family outing or a game with friends, the park invites you to escape the hustle and bustle of the city. Amenities include public art, picnic tables, benches, a basketball court, soccer field, and a playground. 
Muir Park is nearby to Washington Elementary School as well as plenty of dining and shopping spots along 16th street such Taqueria Jalisco, Blue Diamond Growers, Sampino's Towne Foods and 16th Street Donuts. 
Throughout the year, the park come's to life with activities such as Second Saturday events and free exercise programming. 
Sutter's Fort
Sutter's Fort State Historic Park, nestled in the heart of Midtown Sacramento, holds a profound historical significance as the epicenter of California's early European colonial settlement. Recently, California State Parks embarked on an important journey to reexamine the past. California State Parks gathered public input on a proposal to fundamentally change the way history is interpreted at Sutter's Fort State Historic Park as part of State Parks' Reexamining Our Past Initiative. The initiative aims to accurately reflect the historical impact and significance of events that occurred with John Sutter at Sutter's Fort.
As you explore this historic gem, you'll discover a beautiful pond, a serene walking path, and even public WIFI to keep you connected. Visitors are welcome to explore the historic structures and living history museum at their own pace. A map and brochure are available at the kiosk. 
Visitors who stroll by Sutter's Fort at night will find enhanced lighting to bring more visibility to park grounds and improve visitor safety. Throughout the year the lights will change colors to celebrate or highlight certain awareness days or holidays.  
In addition, the park occasionally hosts fun events including Farm to Fort, free outdoor movie nights, and other family-friendly events such as outdoor concerts, Acorn Day and night tours. Nearby visitors can also discover great dining options such as the Star Lounge at the Hyatt House Sacramento, Cafe Bernardo and more. 
Discover Sutter's Fort State Historic Park, where history comes to life, and the future is brighter than ever before. 
29th & R Streets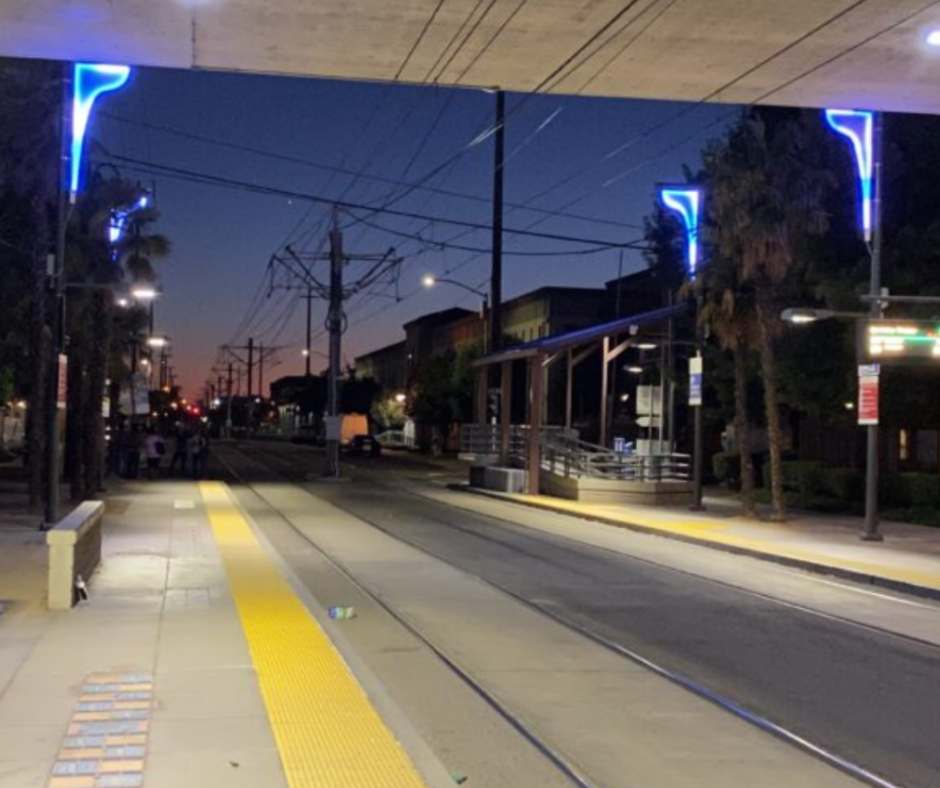 Experience the vibrant intersection of 29th and R Streets in Sacramento. This locale features the 29th Street Sacramento Regional Transit Light Rail, adorned with captivating public light art, bringing art every day to our residents and visitors who use the light rail as a commuting option. The light rail offers an easy transit option for those who want to explore Midtown and beyond.
Surrounded by distinctive spaces like the Cannery, a hub for creativity and commerce, and one of Sacramento's premiere office spaces. Nearby you'll discover the Sacramento Natural Food Co-Op for grocery shopping, and other dining and coffee spots such as Temple Coffee, Revolutionary Winery and more. Whether for work, dining, or shopping 29th and R Streets has something for everyone.
Truitt Bark Park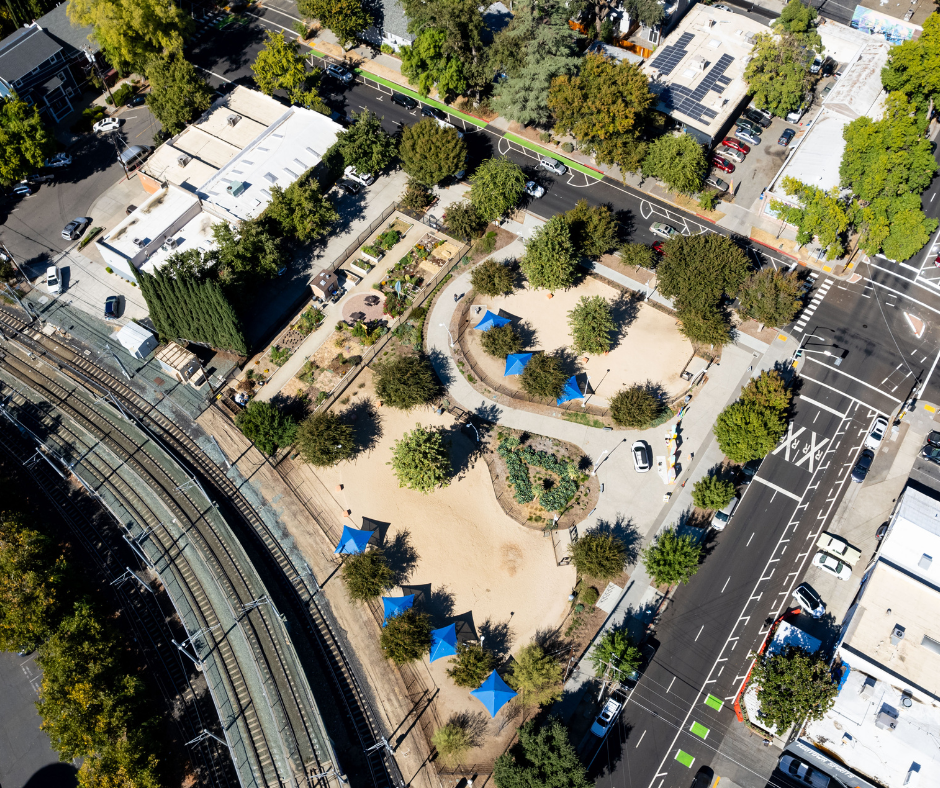 At Truitt Bark Park, you will discover a hub of community activity and canine fun. For those with a green thumb, the community garden boasts 25 garden plots and 3 accessible raised plots. If you're looking for a spot to enjoy a meal or simply relax, you'll find picnic tables and inviting seat walls, perfect for soaking in the sun and dog-watching.  Bonus, the park is next to endless dining and shopping options including Midtown Spirits, Pocha House, Leash and Collar, and The Ice Blocks.  
But of course, the star of the show is that Truitt Bark Park is home to a .23-acre large dog park and .12-acre small dog park, where your furry friends can run, play, and make new pals. Plus, check out awesome art including a ladybug sculpture, the vibrant iconic BARK letter painted by local artist Uli Smith and soon a new mural that will feature eight dogs from our own Midtown community. 
Feeling connected is a breeze, as the park offers free WIFI. Plus, enjoy shade with umbrellas and other great amenities including seat walls, bike racks, and more.  
Winn Park
Welcome to Winn Park, the perfect instagrammable park that invites guests to sit back and relax underneath the iconic Winn Park trees. During the evening, visitors will be pleasantly surprised to find ambient string lights in the tree canopies. Winn Park has become a go-to spot to have a picnic or relax with friends.  
At the center of the park is a community gathering space for local non-profit – the Latino Center of Art and Culture. Once a Fire Alarm Building in 1937, the space allows LCAC's members to use the outside park for many of their programs and brings a space in Midtown where Latinos can come together and celebrate and elevate their cultural experiences. 
Amenities include picnic tables, tree shade, benches, and walkways. Nearby the park is near many great dining and coffee options such as Hidden Dumpling House, Pivot Coffee, Revolutionary Winery & Kitchen, Temple Coffee Roasters, and Sacramento Natural Foods Co-Op. 
Throughout the year, the park is activated with fun events such as art markets, El Bus de Frida, Sac Co-Op events, free yoga for the community, and more.
 Memorial Auditorium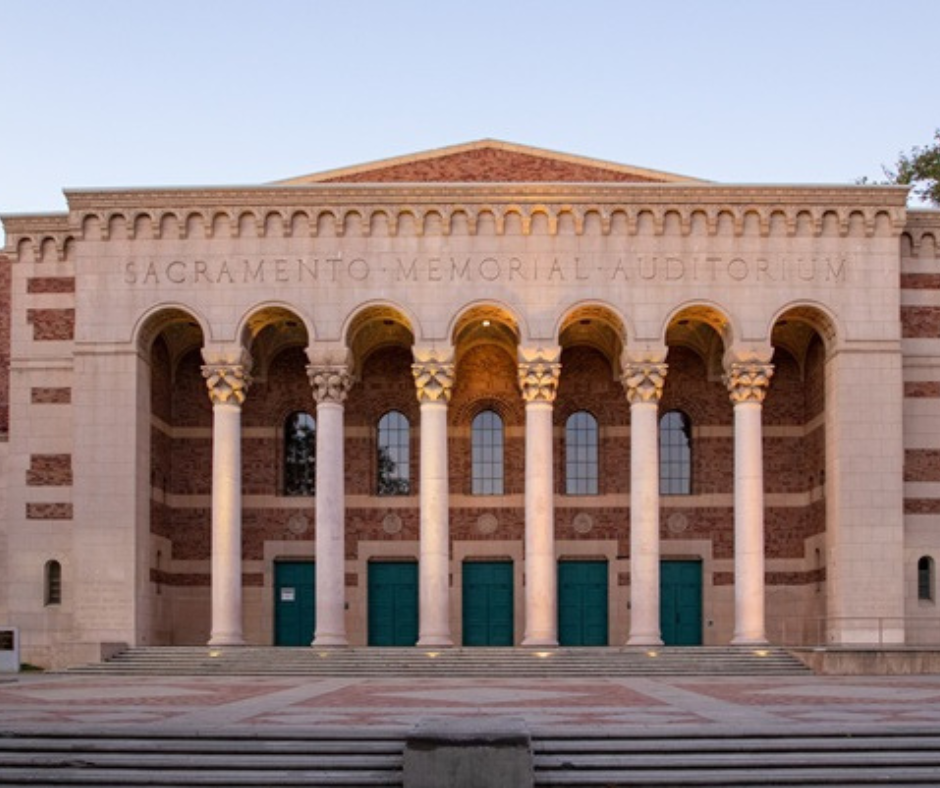 Explore the captivating charm of the Sacramento Memorial Auditorium, a cherished Sacramento landmark listed on the National Historic Register. Built in 1926 and opening its doors in February 1927, this iconic venue has been a centerpiece of the region's cultural scene for over eight decades. From big bands and violin virtuosos to legendary acts like the Beach Boys and Rolling Stones, the Memorial Auditorium has hosted a diverse array of events, drawing audiences from far and wide.
Beyond its rich history, the Memorial Auditorium continues to be a versatile space, serving as a venue of choice not only for entertainment and sporting events but also for meetings, conferences, banquets, receptions, and engaging speaking engagements. It's also a place of sentimental value, where thousands of graduates from regional schools gather each May and June to celebrate their commencements. Discover the enduring magic and versatility of the SAFE Credit Union Memorial Auditorium, where culture, history, and memorable experiences come together.
SAFE Credit Union Convention Center
Experience the future of meetings and conventions in Sacramento at the SAFE Credit Union Convention Center, where modernity, history, and culture converge to create unforgettable experiences. Discover the newly renovated and expanded convention Center in Sacramento, your gateway to the vibrant Midtown district just a few blocks away. This dynamic venue offers an exciting meeting experience with expanded facilities, including an exhibit hall, a new ballroom, additional meeting rooms, and a captivating outdoor plaza.
With three distinct lobbies – West, East, and North – each with its unique charm, the convention center can host various events simultaneously. What's more, its strategic location ensures easy access to Midtown, where you'll find award-winning restaurants, cultural attractions, and entertainment options.
---
As Midtown Sacramento embraces a new era of sustainable exploration, our wayfinding posts stand ready to help you explore and travel our city. Whether you're a local resident or a curious visitor, let these posts guide your way around Midtown! Embrace the ease, excitement, and convenience of discovering Midtown your way – by walking, biking, or scootering. Tag @exploremidtown or #DiscoverMidtownYourWay for a chance to be featured.