Get Outside With Fresh Air: Fremont Park
June 15th, 2022
When was the last time you tried something new? With beautiful weather comes the return of Fresh Air: Fremont Park, a series of free health and wellness activities, aimed at encouraging an active and mindful lifestyle, which is critical to the health of our community.
This year's activities include Pilates, Yoga, Bootcamp, and Open-Air Coworking to activate Fremont Park every weekday. Workouts are open to all ages and fitness levels! Review the weekly/monthly class schedule below. No registration is necessary. Check out the class description before you go to determine if you need to bring any exercise materials, like a yoga mat.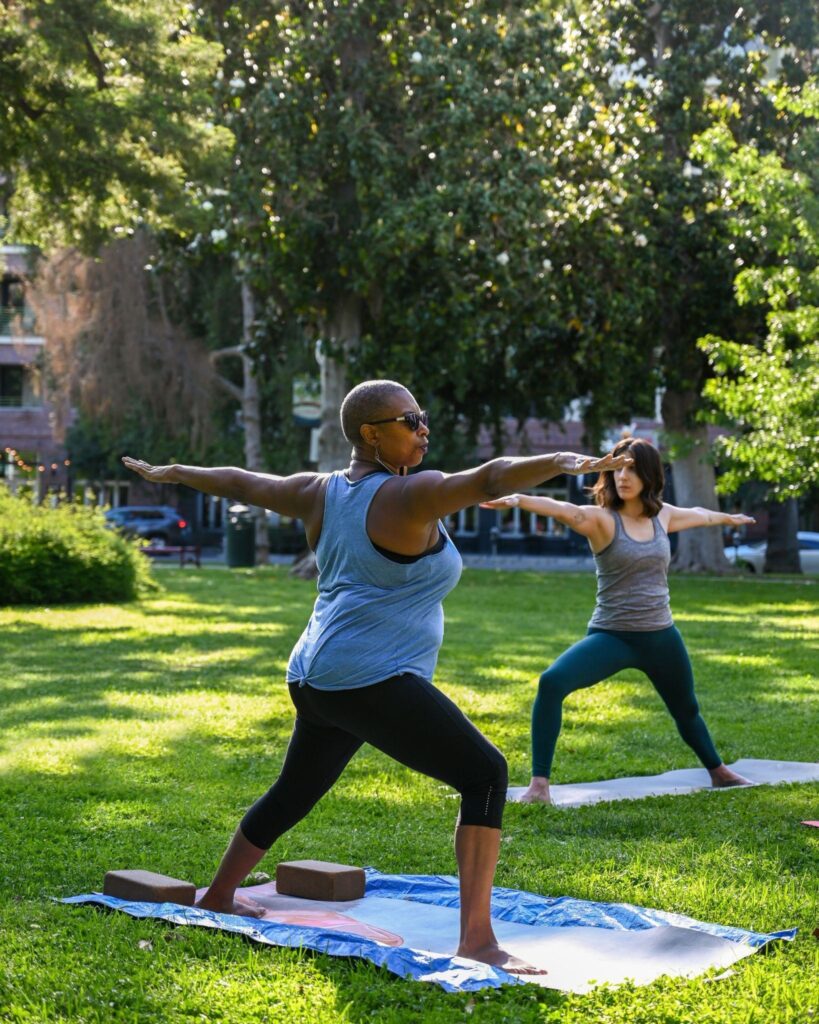 About Fremont Park 
Fremont Park features a kids' play area, detailed art sculptures, and ample space to recreate under large shady trees. The park is home to everything from concerts, chalk festivals, lightsaber battles, artisan markets, movie nights, and chess matches. Surrounded by locally-owned restaurants, coffee shops, and high-density and high-end apartment buildings, with a light rail station to boot, Fremont Park is one of the 10 original parcels in the City of Sacramento, which continues to serve the public. Fremont Park has gone through multiple updates through the support of a committed 'Friends of Fremont Park' group and Midtown Parks.
Midtown Parks recently wrapped eight electrical pedestals in Fremont Park with art, in an effort to beautify and activate parks within the district. The pedestals were recently added as part of the city of Sacramento's electrical upgrades to the park. Midtown Parks worked with local artist Melissa Uroff, who employed her unique combination of photography and paint to create the digital artwork for these wraps. The dynamic designs feature local female leaders from Sacramento whose children play at Fremont Park.
Area Dining and Shopping 
Fremont Park is surrounded by restaurants, entertainment, and multifamily housing. For excellent apartment options in the area, check out Legado de Ravel 16 Powerhouse and 1430Q. For excellent retail, check out the nearby Ice Blocks.  
Dining options immediately facing the park are plentiful. Favorites include Mochinut Midtown which is the happy union between Japanese rice cake (mochi) and American-style doughnuts, Magpie Café for incredible farm-to-fork fare, and Temple Coffee.
Transportation
Fremont Park provides a green space in the densely populated yet easy-to-navigate central grid. Transportation options include hourly street parking, SacRT bus & light rail, rideshare, as well as walking and biking. Fremont Park is within 1/4 mile from the 16th Street Light Rail Station. Check out our transportation tips to getting around Midtown.
Fresh Air Fremont Classes and Activities 
Mondays | Pilates with Christina | 6 PM – 7 PM
Follow her at @christina_matassa
Pilates features low-impact mat exercises aimed at strengthening your core and promoting flexibility. Class attendees should bring a mat and a water bottle.
Tuesdays & Thursdays | Yoga with Yoga Moves Us| 6 PM – 7 PM
Follow them at @yogamovesus
Yoga features gentle movements and breathing techniques to focus on alignment and balance. Class attendees should bring a mat and a water bottle. 
Wednesdays | Bootcamp with Jarita | 6 PM – 7 PM
Follow her at inspire_by_j
Bootcamp combines cardio and strength training for a dynamic, full-body workout. Class attendees should bring a mat, a water bottle, and a resistance band. The instructor will bring some resistance bands to loan. 
Fridays | Open-Air Coworking | 10 AM – 1 PM
Use the park's free wifi to work under the shade of trees in our open-air coworking area complete with bistro tables & chairs. Some days you may even find the Mobile Library as well as the Miridae Mobile Nursery at Open-Air Coworking. Explore park adjacent dining options and enjoy our Lunch Hour Lounge with live music, lawn games, and rotating activities. 
Fridays | Zumba | 9 AM – 10 AM and 6-7 PM
Zumba is a fitness program that combines cardio and dance. Class attendees should bring a mat and a water bottle. Zumba classes are bi-monthly and occur on the second and fourth Saturdays of the month. Check out the full schedule on our Fresh Air: Fremont Park Calendar below. 

These outdoor activities are examples of ways Midtown Parks supports the well-being of the community by creating centrally located public spaces designed to provide opportunities for recreation and leisure and to build relationships with neighbors. 
For more information about upcoming activations and ways to sponsor or support Midtown Parks, please visit www.MidtownParks.org.
Thank you to our sponsors: