Exploring Midtown's Vibrant Murals & Public Art Walk
June 28th, 2023
Midtown is a treasure trove of artistic expression, where murals and public art pieces adorn the streets, enhancing the colors of the district. If you're in Midtown and looking for an immersive experience in art, a self-guided mural and public art walk is the perfect way to explore the vibrant streets of Midtown.
Location: 2708 J Street
Artist: Jeremiah Kille
Our journey begins at 2708 J Street, where you'll encounter an extraordinary mural crafted by the talented Jeremiah Kille. As you stand before this awe-inspiring creation, let your imagination run wild as you decipher the unique details and symbolism woven into its design.
Location: 2131 Capitol Ave
Artist: Adnate
Continuing your walk, you will arrive at 2131 Capitol Ave, where Adnate's mural captivates passersby with its celebration of diversity. Adnate's remarkable ability to capture human emotions and stories through his art is evident in this striking piece.
Location: 2131 Capitol Ave
Artist: Caratoes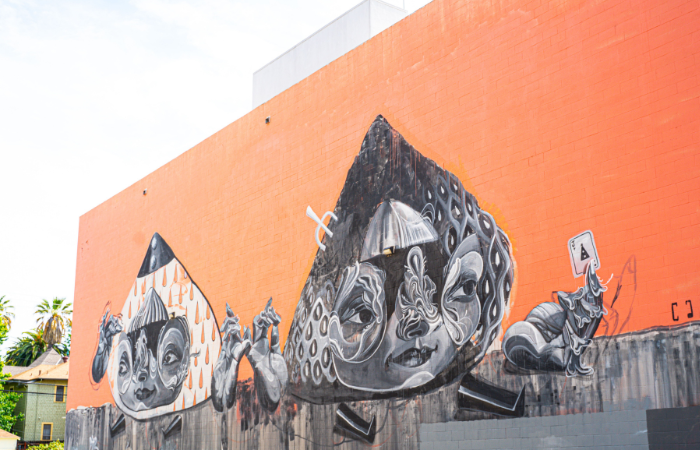 Adjacent to Adnate's mural, you'll discover Caratoes' extraordinary creation. Caratoes seamlessly blends Eastern and Western influences, infusing the artwork with vibrant colors and abstract forms.
Mural Name: Few and Far Women
Location: 930 20th Street
Artist: Various Artists

As we venture deeper into Midtown, we encounter the collaborative masterpiece known as "Few and Far Women." This mural, brought to life by a collective of talented artists, pays homage to the strength, creativity, and resilience of women.
Location: 1403 19th Street
Artist: Shonna McDaniels

Shonna McDaniels is the Founder and Director of the Sojourner Truth Art Museum (founded in 1996). McDaniels is a professional artist/teacher/muralist and community activist, she has an extensive background in art instruction and mural designs.
Location: 1716 J Street
Artist: Mars 1 AKA Mario Martinez

Mario Martinez (aka MARS-1) paints from a penetrating perspective of great depth. Viewers are drawn into his imaginative compositions, overflowing with colorful geometric and organic shapes, layered to form unique patterns and textures
Location: 1815 K Street
Artist: Isle Valfre
Moving along, find yourself enchanted by Isle Valfre's whimsical mural at 1815 K Street. Valfre's distinctive style and playful characters transport us to a world where imagination knows no bounds.
Mural Name: Frida
Location: 2331 K Street
Artist: John S. Huerta

Head along K Street to the corner of 24th & K to see this vibrant Frida mural painted by John S. Huerta. This iconic Midtown mural marks the location for Midtown Central, home of restaurants and bars we love including Cantina Alley, Golden Bear, Pizzasaurus Rex, and more.
Mural Name: Our Lady Guadalupe
Location: 2200 K Street
Artist: JM Knudsen
A mural by JM Knudsen graces the brick wall near Temple Coffee in Midtown. This colorful mural is 11 feet tall and 7 feet wide.
Mural Name: Soniarita
Location: 2416 K Street
Artist: JM Knudsen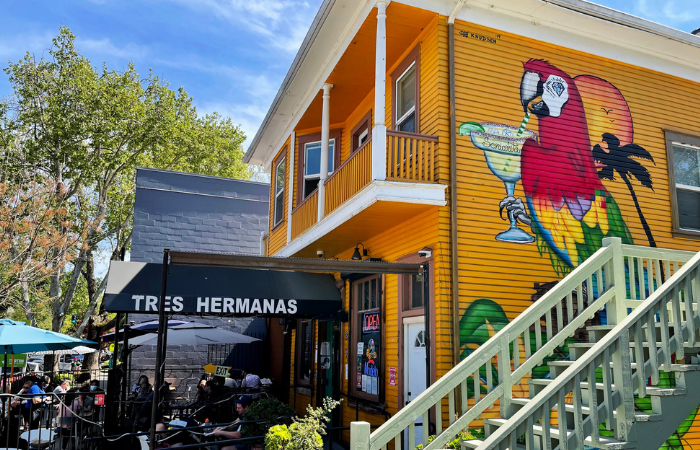 A string of murals by JM Knudsen can be seen along J Street including this vibrant bird mural located on the exterior of Tres Hermanas restaurant. It's hard to miss on this bright yellow building.
Mural Name: The Wings of Sacramento
Location: 2416 K Street
Artist: JM Knudsen
To the left of the Soniarita mural, JM Knudsen painted another mural that act as a photo-op for Midtown goers.  Just pose in front of the wings for your Instagram moment!
Location: 1900 K Street
Artist: Jeremiah Kille

Returning to Jeremiah Kille's artistry, we encounter another of his masterpieces at 1900 K Street. Here, Kille invites us into a realm of abstract beauty.
Location: 2801 P Street
Artist: Anthony Padilla
Across from Winn Park and Wednesdays at Winn, you'll stumble upon this Sacramento-themed mural that is proudly painted above Dumpling House in Midtown.
Mural Name: Kumbaya Moment
Location: 2710 R Street
Artist: Bryan Valenzuela
At 2710 R Street, you will encounter Bryan Valenzuela's thought-provoking mural titled "Kumbaya Moment." Valenzuela's artwork delves into social issues and challenges viewers to reflect upon the world around them.
Location: 2772 N Street
Artist: Lena Mac

As you continue your walk through Midtown, you will find this geometric and colorful masterpiece by Lena Mac that was painted on Second Saturday in June.
Location: Fremont Park, 1515 Q Street
Artist: Melissa Uroff
A walk by Fremont Park will show you eight electrical pedestals in Fremont Park with art, in an effort to beautify and activate parks within the district. The pedestals were added as part of the city of Sacramento's electrical upgrades to the park. Midtown Parks worked with local artist Melissa Uroff, who employed her unique combination of photography and paint to create the digital artwork for these wraps. The dynamic designs feature local female leaders from Sacramento whose children play at Fremont Park.
Art Name: Love is in Our Roots
Location: 21st Street at L, J, & K Streets
Artist: Designs by Midtown Association
These PRIDE-inspired wraps, located near Lavender Heights and the Midtown Farmers Market represent Midtown's inclusivity and love for all.
Location: 1716 L Street
Artist: Kinetik Ideas AKA Anthony Padilla

Stroll past this colorful mural by Anthony Padilla at 1716 L Street. Working under the name Kinetik Ideas, Padilla's laid color on the horizons of Sacramento since the '90s. Often times he wakes up to paint one mural and is seen finishing another in the evening.
Mural Name: Conversation
Location: 1517 21st Street
Artist: Lin Fei Fei
Our art walk continues to 1517 21st Street, where Lin Fei Fei's mural takes center stage on the outside of Holy Diver. Fei Fei's work gravitates towards dark, edgy artistry that evokes an alternative perspective on life and its many facets.
Location: 1517 21st Street
Artist: Paola Delfin
In the same parking lot on 21st Street find this moody masterpiece by Paola Delfin. Her work is mainly influenced by human anatomy, especially the female form. It explores the different stages and emotions a human being can live and feel.
Mural Name: Prosperity Through Perseverance
Location: 1050 20th Street
Artist: Maren Conrad
As we approach 1050 20th Street, we are greeted by Maren Conrad's captivating mural. Inspired by the dragon origin legend of the koi that ascended a waterfall on the Yangtze River, this piece pays homage to the Chinese immigrants that persevered creating the transcontinental railroad, receiving little credit and subhuman conditions.
Mural Name: California Bear
Location: 1413 21st Street
Artist: Raphael Delgado
Moving along, we arrive at 1413 21st Street, where Raphael Delgado's vibrant mural awaits above Jalapenos Restaurant. Delgado's skillful use of color and patterns creates a mesmerizing mosaic that celebrates the spirit of Midtown.
Mural Name: Midtown Love
Location: 1401 21st Street
Artist: Jeremy Stanger
Located on the outside of the Midtown Association office, the Midtown Love mural stands proud to represent Midtown Love which we define as being in action to actively celebrate, include, and proudly protect our fellow community members. 
Location: 2820 R Street
Artist: Raphael Delgado

At 2820 R Street, we discover yet another remarkable mural by Raphael Delgado. Delgado's artistry comes to life as he paints a vivid picture of the district's spirit and vitality.
Mural Name: Sunshine State of Mind
Location: 1900 28th Street
Artist: Rachel Kerns

A short walk from the R Street mural brings you to a colorful mural named "Sunshine State of Mind" by Rachel Kerns. P.S.: Rachel is Midtown Second Saturday's featured artist!
Location: 1026 17th Street, 17 Central Apartments

[More information coming soon!]
Mural Name: Mural Surfing USA
Location: 1815 K Street
Artist: Roy Gonzalez
Returning to 1815 K Street, we encounter Roy Gonzalez's mural, a vibrant art piece of something he is very fond of – surfing.
Mural Name: A Journey Into Curiosity
Location: 501 16th Street, The Eleanor Apartments
Artist: Ashop Crew
Eleanor Apartments began with the building's exterior mural which wraps around all four sides of the structure. Titled, "A Journey into Curiosity," they used an imaginative and surreal aesthetic as the stepping-off point for finding and creating art that continues a visual story inside the building as well.
Location: 1515 C Street, Muir Park
Artist: Manuel Fernando, Tomás Montoya, and Amar Azucena Cid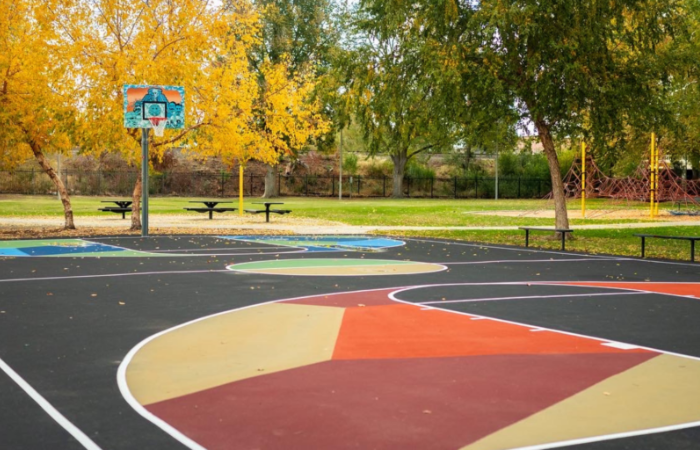 In an ongoing effort to increase community engagement in Midtown's urban green spaces, Midtown Parks installed a basketball court mural at Muir Park with matching vinyl wrapped backboards, featuring complementary designs. This project enhances the aesthetic appeal of the park and celebrates the diverse history and culture of the surrounding neighborhood, including its roots in the 1960s Chicano Arts Movement.
Location: 3001 L Street
Artist: Designed by Ryan Brijs, painted by Jeremy Stanger
This mural, painted in the Alhambra District, is a tribute to the 'Light the Beam' movement and a celebration of Sacramento pride!
Location: Alhambra Blvd.
Artist: Designs by Midtown Association
Crossing into the Alhambra District, you can see seven colorful utility box art wraps that line Alhambra Blvd. from J to S Street and highlight Alhambra's rich culture.
Location: 1400 Alhambra Blvd
Artist: Lena Mac

Our final stop brings us to 1400 Alhambra Blvd, where visit another surreal mural by Lena Mac that will stop you in your tracks with its colorful florals and shapes.
---
Upcoming Art
Truitt Bark Park Mural | Truitt Bark Park, 1818 Q Street
---
As our self-guided mural and public art walk through Midtown comes to a close, we hope you've been inspired by the incredible talent and creativity on display. These murals and art pieces reflect the culture, creativity, and vibrancy of Midtown, making it a hub for artistic expression. Whether you embark on this adventure during Second Saturday or any other day, the streets of Midtown eagerly await your exploration. So, grab your camera, a friend, and immerse yourself in the vibrant art that awaits you!
Don't forget to post your mural photos on Instagram and tag us @exploremidtown for a chance to be featured.