Solid Gold Entertainment, Art and Dining at Midtown Sacramento's "Golden Hub"
June 16th, 2022
Pop quiz—how many of these trendy Midtown destinations do you know? Historic homes turned bars, shipping container beer gardens, forgotten alleyways reclaimed by art and cuisine, and towering trees filled with disco lights, all of this and more are found in the heart of Midtown Sacramento's "Golden Hub" at the intersections of 24th and K streets. 
Area Murals, History, and Art
The 24th and K Golden Hub features more than ten art installations within one block. Discovering art as you Explore Midtown is one of our favorite pastimes so while we won't reveal every single mural or unexpected art installation, here are three that are not to be missed for a perfectly Instagrammable and Midtown-y moment. Tag @ExploreMidtown on your photos as you discover these incredible lighting, art and statue art installations. Extra credit if you find Amy Winehouse in the alley! 
The Disco Tree at 24th and K Streets 
Located right on the golden corner, this tree came about through a partnership between Midtown Association, SMUD and local artist and creator Michael Sestak. Featuring color changing "disco ball" lighting features, the tree has become one of Midtown's hidden gems. The best time to view the tree is at sundown or after from urban beer garden DerBiergarten with a pretzel, stein of beer or cider, or a Schnitz n' Waffle. Historically, this corner was a blighted and empty piece of land following a fire in the converted home/restaurant prior. The now owner Thomas Roth and operator Sean Derfield created the first shipping container garden in Sacramento.
Midtown Sacramento lettering on K Street 
Located below the speakeasy at Cantina Alley (yes there is a speakeasy and yes there is also an authentic cantina in an alley..), these iconic and colorful Midtown letters are best photographed during happy hour or early evening to catch the vibrancy and detail of each letter. Upstairs above the letters is a special Mexican speakeasy, directly to the east of the letters find a mercado in a converted church complete with imported furniture and handicrafts, and right behind the letters find the locally famous Cantina Alley restaurant and bar. Featuring traditional Mexican street foods in an art-filled and garden-esq converted alley, Cantina Alley's elote and fruit filled cocktails are not to be missed. Interesting historical note, the converted church was originally a Mormon church erected around 1929, became the Spiritual Life Center in the mid-1990's, evolved to be the Ancient Future Urban Sanctuary, to now become the PlacitaMX mercado.
Take Flight on K Street 
Best photographed during day-time hours and especially with a little one or pup in tow, the Take Flight wings mural was painted by JM Knudsen in the late 2010's, and is steps away from the Golden Hub. This mural features a city streetscape with wings above and Knudsen's signature lettering and messaging, "You are Great." 
Cultural Street Parties
Not a day goes by without something fun going on at the Golden Hub, but a few days are especially notable. Cinco de Mayo hosted by Cantina Alleyway is a celebration with music in the alleyway between J and K streets and some years it spills out to a street closure on K street between 23th and 24th streets. Oktoberfest hosted by DerBergarten is in late September and features a large array of local and imported beers, authentic entertainment, and incredible German foods. Banana Sundaes hosted by Flamingo House is a later evening street party with music and drinks a plenty hosted in June and October each year.
Eating, Drinking and Live Entertainment
Each restaurant at the Golden Hub has a perfectly curated menu and experience ranging from fully plant based at the Burger Patch to the best pizza in town at Pizzasauras Rex. All locations offer food to go or on site, most offer live entertainment in the evenings, and all are equipped with beautiful outdoor dining. 
Burger Patch | @theburgerpatch
2301 K Street | Open everyday 11 am – 10 pm, until midnight Friday and Saturday, for breakfast at 8:30 am on Saturday and Sunday. 
The perfect mixture of flavor and sustainability, Burger Patch provides a fully plant based burger, fries and shakes experience with the best vegan milkshake on the planet. The fresh baked cookies, vegan breakfast and tots are also not to be missed. Open from early to late on the weekends, and everything in between during the week, Burger Patch is a great stop for any meal.
2320 Jazz Alley | Open Tuesday – Thursday 4 pm -10 pm, Friday and Saturday 11:30am – 1am and Sunday 11:30 am – 10 pm
Originally an 1800s era two story home with a large run down backyard, Cantina Alley is now a shaded garden-esque patio featuring traditional Mexican street foods with a soon to launch speakeasy in the still standing Victorian structure. 
DerBiergarten | @midtownbeergarden
2332 K Street | Open Monday – Thursday 3 pm – 8:30 pm, Friday 3:00 pm – 10:45 pm, Saturday 11 am  – 10:45 pm and Sunday 11:00 AM – 8:30 PM
Der Biergarten is Sacramento's spot to socialize over some great German beer and light German fare. This Midtown Sacramento beer lover's spot is a twist on the traditional German beer garden. It's authentically German in its extensive beer selection and light German food menu, with 32 beers on draft and sausages brought in fresh from Sacramento's #1 German Butcher.
The Flamingo House | @flamingosac
2315 K Street | Open Monday – Friday 6 pm – 1:30, Saturday and Sunday 2 pm – 1:30 am
The Flamingo House is an intermingling of midtown culture and coastal leisure offering a unique California approach with plates and exceptional cocktails. Two patios along with a bar and lounge offer ample opportunities to listen to the evening's DJ, hang out on the swinging hammock, or enjoy a handroll or two.  
The Golden Bear |  @thegoldenbear
2326 K Street | Open Monday – Friday 12 pm – 2 am, Saturday and Sunday 10:30 am – 2 am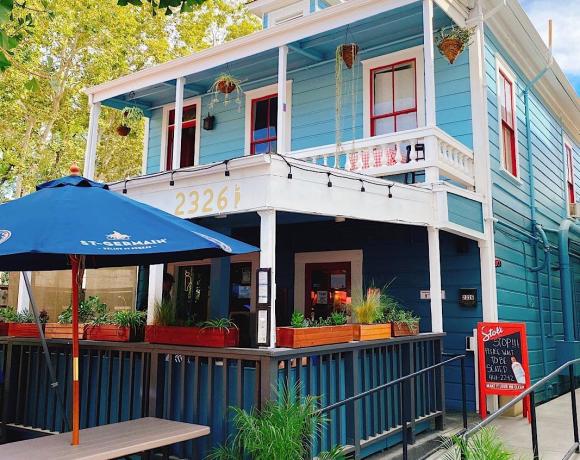 Since 2004, Golden Bear has been a casual bar and kitchen in Midtown with a welcoming staff and a laid back vibe. TGB has delicious food made from scratch, cold craft beer and stiff cocktails along with hosting weekly Wednesday open mic nights and popular annual events like the annual Hot Toddy Competition. 
Pizzasaurus Rex | @eatpizzasaurusrex
2322 K Street| Open Mondays 2 pm – 9 pm and Tuesday – Sunday 11 am – 9 pm
Pizzasaurus Rex specializes in one-size-only, 18-by-13-inch rectangular pies, fired for six to eight minutes at 475 degrees in the restaurant's brick deck oven. The menu includes staples like a melty three-cheese version topped with mozzarella, provolone and ricotta, as well as a hearty vegan combo with faux pepperoni, mushrooms, olives and bell peppers. They offer 12 beers on tap to wash down your meal or to take home in a growler for later. The "dino" sauce is a cilantro jalapeno dipping sauce that is a must on the side no matter what you order.
Experience this uniquely Northern California destination on any evening for bustling nightlife, one of the above culturally diverse events, or enjoy a happy hour stroll to see artwork and enjoy a watermelon filled with margarita, a vegan burger, or even a German beer stein filled with pilsner. 
Remember to snap a photo and hashtag #ExploreMidtown for a chance to be featured on our social media @ExploreMidtown or our next blog!