Celebrate Halloween in Midtown!
September 22nd, 2022
Bewitching brews, a boo bash, a vampire ball and the annual Midtown Sutter Halloween Festival and Pooch Parade are all taking place in Midtown Sacramento this October, distinguishing Midtown as a Halloween hotspot for you, your friends, and your pets to have a ghoulishly good time.   
Check out our list of must-attend October events in Midtown to celebrate your favorite scary month and scroll down to enter your pup into the pooch parade and win great prizes.  
Halloween Festival & Pooch Parade
Saturday, October 29, 12 PM
Marshall Park 
Did someone say happy HOWL-oween? This year, make sure your favorite four-footed friends get to indulge in some Halloween festivities! The restaurants of Midtown Sutter have joined forces once again to present the Midtown Halloween Festival & Pooch Parade on Saturday, October 29 from 12 – 3 pm at James Marshall Park. 
Presented by Midtown Sutter restaurants –including Barwest, Blue Cue, Café Bernardo, Centro Cocina Mexicana, Four Palms, Harlow's, INK Eats & Drinks, Paragary's Midtown, Red Rabbit Kitchen & Bar, and Tea Bar & Fusion Café – the canine-friendly event is highlighted by a much-anticipated "pooch parade" scheduled to take place at 2 p.m.  
Furry friends will strut and stroll while competing in an always-entertaining costume contest that will include prizes, like gift cards to Sutter Midtown District restaurants and Midtown Love swag, for the winning pooches. Make sure to register your pooch in advance here: https://exploremidtown.org/pooch-parade/
Before the highly anticipated parade of costumed pooches, there will be plenty of family-friendly outdoor activities such as live music presented by Harlow's, DIY plant jars presented by Paragary's, arts & crafts from Café Bernardo and Four Palms, a magician and puppet show presented by B Street Theatre, pumpkin bowling brought to you by Blue Cue, a face painter brought by Ink Eats and Drinks, lawn games like Giant Jenga from Barwest, a fun photo-booth from Tea Bar, dog treat guessing game from Centro, and even a fabulous bounce house from Red Rabbit! 
After a spirited day of Halloween fun with your pets, make sure to stop by the many eateries across the street from the park and throughout Midtown Sutter.
Barwest – 2724 J Street | Saturdays 10 am–2 pm
Blue Cue – 1004 28th Street | Saturdays 5 pm–1 am
Café Bernardo and Four Palms – 2730 Capitol Avenue | Saturdays 10 am–midnight
Centro Cocina Mexicana – 2730 J Street | Saturdays noon–10 pm
Harlow's – 2708 J Street | Saturdays ______
INK Eats & Drinks – 2730 N Street | Saturdays 9 am–2 am
Paragary's Midtown – 1401 28th Street | Saturdays 10 am–2 pm, 5–9 pm (only humans allowed here, unless your pup is a registered service animal)
Red Rabbit Kitchen & Bar – 2718 J Street | Saturdays 3 pm–1 am
Tea Bar & Fusion Café – 2700 Capitol Avenue | Saturdays 11 am–8 pm

View a map of all restaurants here: https://goo.gl/maps/vFrUQBK7bnxWUXf69
Learn more about some of our favorite and read our blog about Midtown Sutter.  
Harvest Festival
Saturday, October 8, 1 p.m.
Sacramento Natural Foods Co-Op

The community is invited to enjoy an afternoon of live music with ACME Soundtracks plus Gabe Nelson and Hannah Lingrell, and Hans Eberbach.  Plus, guests will enjoy activities for the whole family including a free photo booth, a vintage clothing market, wine tasting, food sampling, and local community groups, too. For more, visit www.sac.coop. 
Paint Nite: The Haunted Mansion
Saturday, October 8, 12:15 p.m.
Streets Pub and Grub  

It's time to plan a cool yet creative night in Midtown where guests can paint a creepy haunted mansion to get into the Halloween spirit. Starting with a blank canvas and ending with a completed masterpiece, participants enjoy wine, tasty snacks, and upbeat tunes. To register visit Paint Nite Registration 
Sugar Skull Decoration Night
Friday, October 21 at 7-9 p.m.
Kolores at 108 L Street 
Sugar Skull Decorating Night is back! Have your early Día de Los Muertos celebration at Koloros and decorate some sugar skulls. The event sells out quickly and is only $25.
HarryWeen
Thursday, October 27 at 7:30 p.m.
The Starlet Room at Harlow's 
What do you get when you combine Harry Styles and Halloween? HarryWeen of course. A fun way to kick-off Halloween weekend is by dancing the night away in the Starlet Room at Harlow's to the sounds of Harry Styles. For more, visit www.harlows.com/events. 
XOSO Annual Halloween Pub Crawl
Saturday, October 29, beginning at 4 p.m.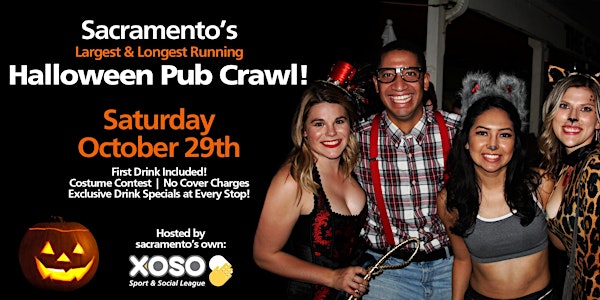 Sacramento's biggest Halloween Bar Crawl is just around the corner! Registration includes one complementary drink at check-in, drink/food specials at participating bars, and entry into the costume contest. Dress up in your funniest, cutest, or scariest Halloween costume for the longest running Halloween pub crawl featuring several Midtown locations. For more, visit XOSO Halloween Pub Crawl. 
Halloween Boo Bash
Saturday, October 29, 8 p.m.
Self Designs Art Gallery  

Visit Self Designs Art Gallery to experience an art gallery that transports guests to another dimension with creative sights and sounds. Attendees are welcome to participate in their Paint for Pride in the upstairs glow room.  Plus, there will be live body painting demonstrations by local artists and a two-level tour of the glowing atmosphere with amazing music, awesome projector visuals and complimentary party treats to fill Boo Bags. For more, visit www.selfdesignsartgallery.com. 
Shannon McCabe's Vampire Ball
Saturday, October 29 at 8 p.m.
Harlow's 

Calling all vampire lovers…Harlow's annual Vampire Ball returns this year as they celebrate 14 years of all things Anne Rice, a famous author of gothic fiction and all the vampires chronicled through the history. For more, visit www.harlows.com/events 
Now that you've got your calendar booked this month, are you ready to have a fangtastic Halloween?! Time to dust off your scariest, funniest, or cutest costume and get ready to have a memorable Midtown experience for Halloween this year. Remember to #ExploreMidtown or tag us on social media for a chance to be featured!