Black-owned Businesses to Support in Midtown Sacramento
June 16th, 2022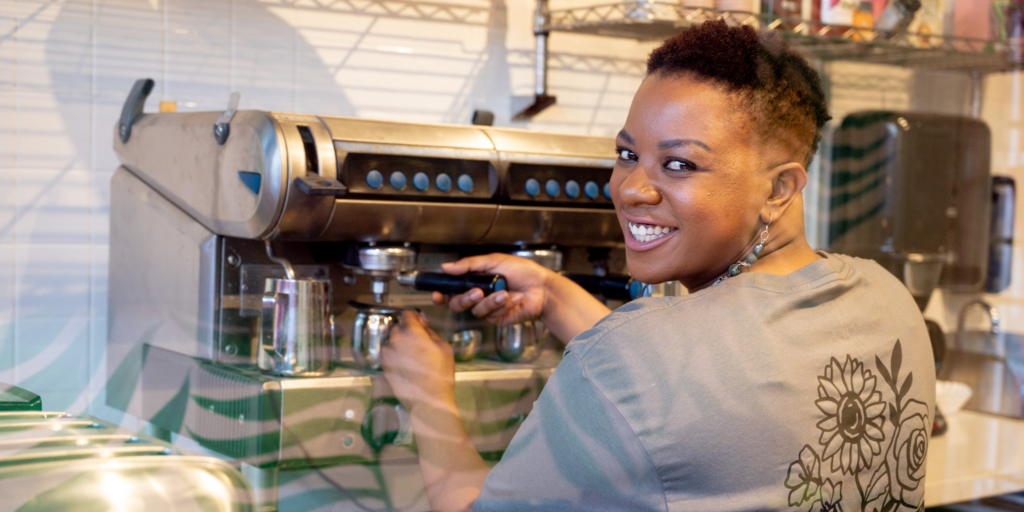 Uplifting Black business owners while finding new favorite spots to eat and shop? We're here for it. Supporting and shopping at Black-owned businesses in Midtown is one of the easiest (and by the looks of our list below, the hippest) ways to elevate and support entrepreneurs in our small business community.
Our list of more than a dozen Black-owned (and co-owned) businesses in Midtown will help you shop local and build economic vitality and diversity in Midtown. Whether you are looking for a beer to watch your favorite football game or want to connect with your community while sipping coffee, there is something for everyone. Read on to find incredible businesses to check out on your next visit to Midtown! 
A classic English-inspired sports pub on J street near the entertainment district of Midtown, Streets Pub & Grub has trivia, karaoke, and a casual all-encompassing menu perfect for late-night bites.
First-generation Nigerian Chef and Owner Rasheed Amedu brings people together with community, culture, and food. His menu brings West African flavors and influence to Mexican cuisine. These unique dishes in the outdoor dining space in Mansion Flats create a special place to dine and gather.
A bake shop tucked into the most adorable Victorian home on J Street, Midtown Bakery has cakes, cookies, brownies, and pies. Make this a stop before or after the Midtown Farmers Market on Saturdays for fresh morning pastries.
A Black-, women-, and sister-owned coffee shop on 24th Street, Drip Espresso is on a mission to center espresso, community, and culture. Come connect, learn, and engage with your friends and community while enjoying delicious drinks and pastries with ingredients sourced locally from BIPOC, women, or LGBTQIA+ vendors. 
One of Sacramento's most vibey bars, Flamingo House renovated an old Victorian home painted pink into an elevated social club and bar. Dance the night away with friends sippin' on delicious cocktails in their lounge area or enjoy their spacious back patio and flamingo-inspired decorations. 
If you're anxious about body waxing, Waxing Crescent specializes in thorough, non-rushed, minimal-pain body waxing. Jazmin Davis, the owner of Waxing Crescent, greets every client with open arms and loves to work individually with clients to clear up issues about their skin. 
Sacramento's first dental spa, D20 Dental, is a green dentist practice committed to minimizing their environmental footprint while offering their patients a spa-like tranquil setting including relaxing aromatherapy products, noise cancellation headsets and five star service. Book an appointment today to optimize your dental health in the most relaxing setting possible. 
Pressed Record Cafe offers a casual dining space and bins of records to dig. Owner & Chef James is a classically trained chef and lover of Jazz music. His passions set the foundation for creating a fresh and creative menu for the cafe.
A salon on J Street, The Loc Bar specializes in natural hair care, locs and braids including butterfly locs, soft locs, knotless braids, box braids, and more. Elevate your hair and experience great service from a Sacramento braider and licensed cosmetologist. 
A fully equipped photography and rental studio, Studio 64 offers artists the tools and properties to help photographers and videographers achieve their dreams. The uplifting studio is a judgment-free zone that allows members to build their skills and portfolio without breaking the bank. 
Create & Bloom Studios is a portrait studio with natural light and plenty of props to pose with!
Brandon's Barbershop
With nothing but stellar reviews, Brandon's Barbershop offers professional grooming for everyone. The barber shop is known for its precise cuts and shaves, excellent customer service, and friendly atmosphere. 
If you've been feeling stressed out lately, relax and ease your tension at Soul Shine Bodywork, where they offer massage therapy and Reiki healing. Combining massage therapy with energy healing is sure to make your soul shine! 
Self Designs Art Gallery is a vibrant art gallery in Midtown, featuring a wide variety of local artists and musicians from different creative backgrounds. During the warmer months, they host Courtyard Concerts at 1801L Apartments, and regularly activate their studio with open mic nights, fashion shows, networking events, and so much more.
The Tattoo and Piercing Artists at Stylz are ready to bring your ideas to life with quality artistry and customer service. Stylz Tattoo artists specialize in custom tattoos of all styles: Realism, Script, Watercolor, New School, Old School, Traditional, Japanese, Full Color, Portraits, Black & Gray, and Polynesian Maori Tribal.
Maisha Bahati is bringing the first Black and Women-owned cannabis dispensary in Sacramento.
In addition to the businesses listed here, there are more than fifteen Black-owned microbusinesses that are vendors at the Midtown Farmers Market and Wednesdays at Winn Night Market. Highlights include Black Lily Naturals with incredible candles and body butters, Sankofa Center with accessories and wraps benefiting AIDS/HIV awareness, Yummy Honey featuring local honey, Black Coffee Roastery, and Yisreal Family Farm.
When you support Midtown businesses, you are part of celebrating our diverse culture, creativity, and vibrancy of Midtown. Don't forget to follow these businesses on social media and check out their websites. Share your photos on Instagram and tag us @ExploreMidtown for a chance to be featured!