Midtown Sacramento Shines with LGBTQIA+ Business Pride
May 26th, 2023
Pride month is here and we're celebrating by spotlighting some of our favorite LGBTQIA+-owned and friendly Midtown businesses and Midtown Farmers Market vendors.
We believe Midtown Love is a verb – being in action to actively celebrate, include and proudly protect our fellow members – and we are so proud to celebrate and highlight our LGBTQ+ business community.
From community resources to eclectic gift shops and lively bars, Midtown boasts a diverse selection of businesses, each contributing to our vibrant urban hub in Midtown. Read on to discover Midtown gems that make our district shine with LGBTQIA+ business pride!
The Sacramento LGBT Community Center | @saclgbtcenter
1015 20th Street 
For more than 40 years, the Sacramento LGBT Community Center has worked to create a thriving LGBTQIA+ community, with health, wellness, and additional social resources. Check them out to learn about their events, groups, and programs.
Lavender Courtyard by Mutual Housing
1616 F Street 
Lavender Courtyard was designed to offer an affirming community for a diversity of people including Sacramento's LGBTQ seniors. The housing is nestled in the heart of Midtown and offers a spacious community room, onsite laundry, and a welcoming outdoor courtyard. To learn more visit lavendercourtyardmutualhousing.com.
Sacramento Lavender Library | @sacllace
1414 21st Street 
Discover the Lavender Library, a volunteer-run LGBTQ+ library, archive, and community space in Sacramento filled with queer books, films, archives, zines and more.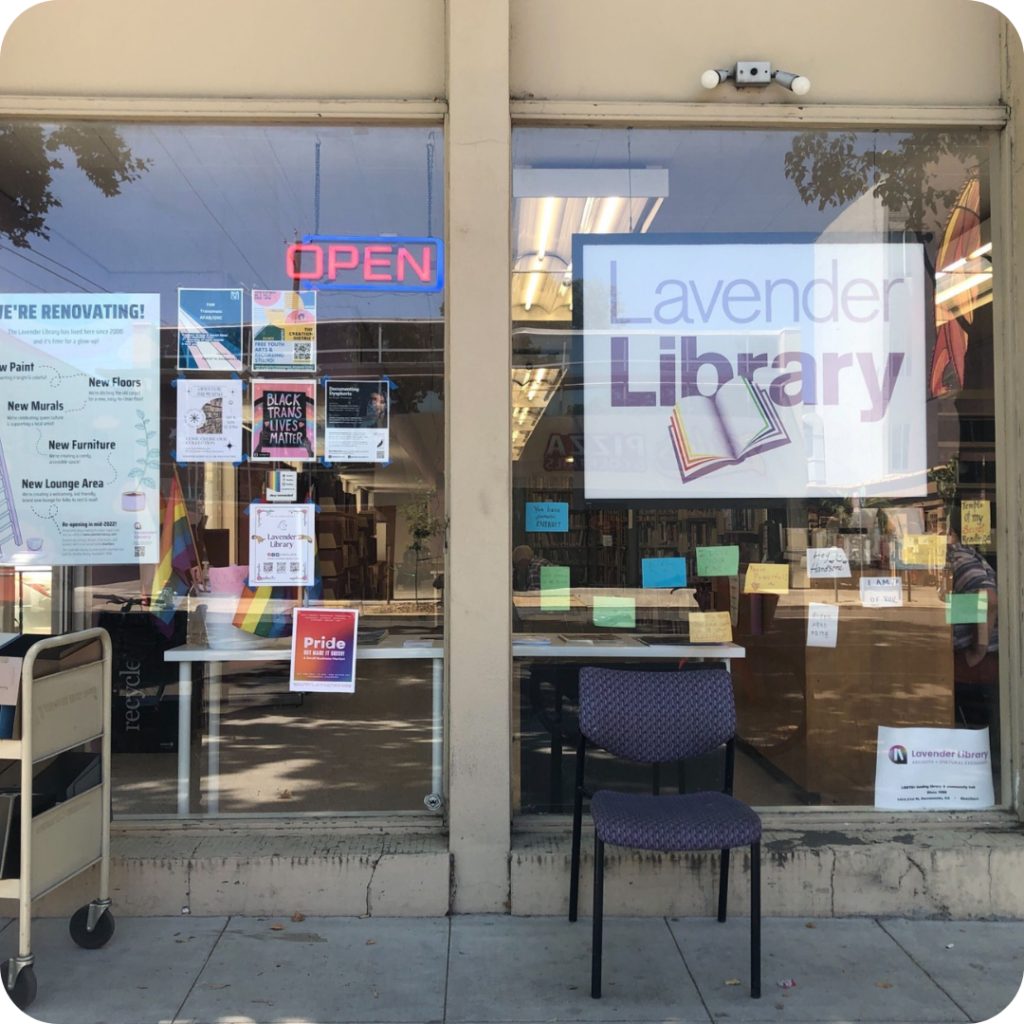 2003 K Street 
Sacramento's premier gay and nightclub is always bringing the good vibes with non-stop parties, the best music, and of course spectacular drag performances.
2000 K Street 
Find an unforgettable dance club experience at one of Sacramento's most famous gay nightlife spots at Faces. Spend your night dancing in one of their three dance floor rooms or grab your friends to enjoy a RuPaul Drag Race All Star watch party inside the venue.
The Depot
2002 K Street Sacramento 
Find some of your favorite Midtown bartenders at The Depot a down-to-earth gay bar featuring signature cocktails and great music.
1930 K Street
Enjoy live music from the comfort of their VIP cabana, hit the dance floor, or on the first Thursday of each month, support local non-profits by participating in Drag Queen Bingo.
Roscoe's Bar & Burgers | @roscoes916
2007 K Street 
Check out the newest business in the Lavender Heights District – Roscoe's Bar & Burgers. The restaurant is the perfect new addition to the LGBTQIA+ friendly neighborhood with great food, and fun events like karaoke and their Sunday drag brunch events.
The Mercantile Saloon
1928 L Street
A Midtown Sacramento classic, the Merc is a local gay bar that is known for its strong drinks, good music, and chill vibe. Dance in their outdoor patio or play a pool game with friends inside. Remember to bring cash, as this a cash-only bar.
2322 K Street 
Celebrate PRIDE by enjoying pizza and competing in the always entertaining Drag Queen Bingo at Pizzasaurus Rex.
1731 L Street 
Find gifts, novelties, home décor, and more at Strapping. This bright and joyful store exudes happiness and vibrancy. Owner Susan and their friendly team welcome anyone to browse their shelves and say hello.
Midtown Farmers Market
The iconic Midtown Farmers Market takes place every Saturday in the heart of the Lavender District and features many LGBTQIA+ vendors. Meet them below, and make sure to show them some #MidtownLove this month and every month by supporting their business at the market.
Chad specializes in hand-embroidered towels, handkerchiefs, and a wide variety of handmade teddy Bears in many fabrics. Visitors can even order custom teddy bears. Chad will be featuring his PRIDE flag collection throughout the month of June at the Midtown Farmers Market and donating 10% of his sales to the LGBT center from the June 3 market.  
You can find Leah and Hella Leaf every weekend at the Midtown Farmers Market with her Succulent Bar where visitors can create their very own succulent arrangement. They offer landscaping, wedding supplies, party supplies, and so much more. Leah's biggest goal as a small business owner is to educate and help others grow their green thumb.  
Chef Céline Callejon started Épicée in 2020 creating a line of healthy, hand-crafted, small batch sauces to enhance meals. Her love for food and spice come together in her sauces and other épicée products. You can find Épicée's hot sauce and "other hot stuff" at the Midtown Farmers Market and on shelves around Sacramento, including the Sacramento Food Co-Op.  
Jon specializes in recycled market bags, greeting cards, acrylic earrings, tees, baseball caps, and tassels for his bags. Sixty percent of Jon's products are made locally in Sacramento, all designed by him!
Mindful jams was born from Amber's passion for good food and inability to find any locally made fresh jam. Mindful Jam's jams and snacks are made in a home kitchen using ingredients that are thoughtful with no extras. Mindful Jams is at the Midtown Farmers Market every weekend with a variety of jam flavors, adding new and fun ones regularly!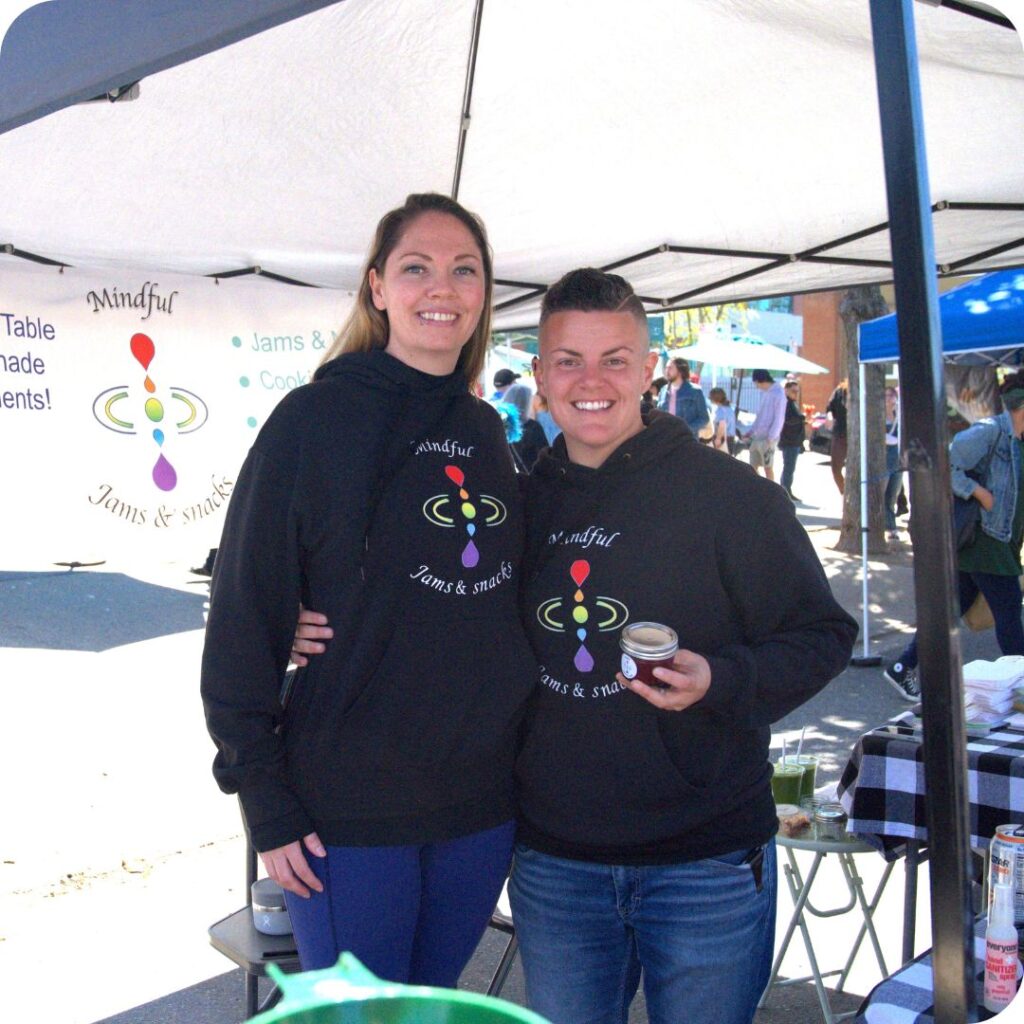 Karl and his team specialize in deep tissue massage and holistic healing using practices from around the world. Polynesian Touch Therapy is at the Midtown Farmers Market every Saturday and on June 24 you can visit their booth from 10 a.m. to 12 p.m. on the hour for a demo on how to perform loving and healing massages that can be used on yourself or loved ones.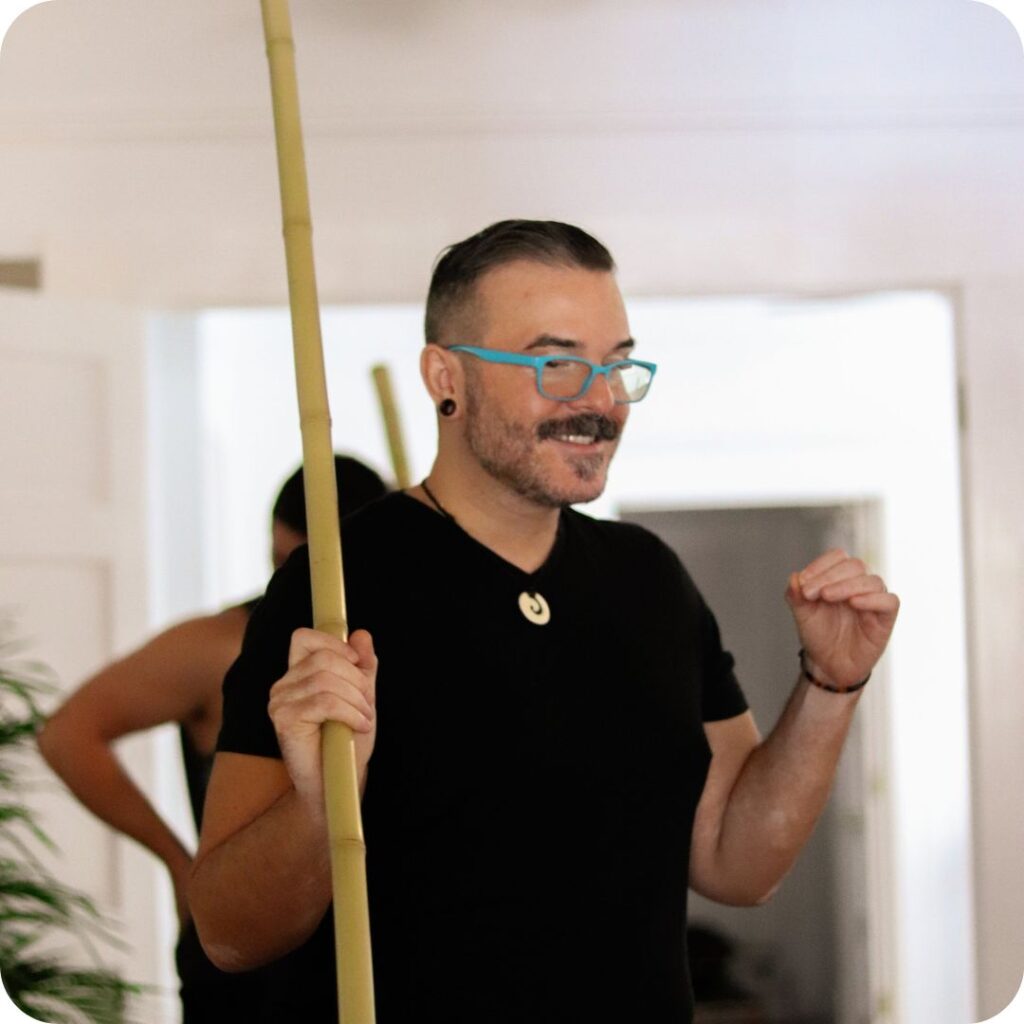 2023 Street Food Sacramento grant recipient, Real Mojo Foods, embodies both local produce and ingredients, but also a combination of classic yet diverse flavor profiles in our products. Real Mojo Foods pickles are hand packed and produced in small batches using simple, fresh, and real ingredients that you know. You can find Real Mojo Foods at the Midtown Farmers Market every Saturday on the Street Food Sacramento Block of 20th Street between L and Capitol Ave.  
The Chubby Cupboard makes everything in small batches from their home kitchen in Sacramento, California. All their dried pasta is air-dried, and hand packaged, making every single bite a product of love. The Chubby Cupboard will be offering rainbow pasta throughout the month of June at the Midtown Farmers Market. Visitors can learn how to make rainbow pasta at the market on June 17th.  
This month and every month we invite you to come and explore our district including the Lavender Heights neighborhood that is rich with LGBTQIA+ history. Bonus check out the iconic Midtown Farmers Market to support LGBTQIA+ vendors and find special PRIDE themed activities. Make sure to tag @exploremidtown on social media! To learn more about our commitment and efforts to cultivate diversity in Midtown check out our Diversity & Inclusion blog.