The Future of Midtown Is Inclusive
June 16th, 2022
Midtown Love is a verb. At the Midtown Association, we believe individuals from all walks of life should be heard, understood, and appreciated. Sacramento is consistently ranked as one of the most diverse cities in the United States, and as the heart of urban Sacramento, Midtown is committed to creating space for everyone. We are in action to advance diversity, equity, and inclusion (DEI) beyond our walls and into the heart of Midtown. In 2022, we were selected as one of the Sacramento Business Journal's inaugural Diversity, Equity & Inclusion Award honorees for our commitment to promoting practices that advance DEI in the workplace and community.  
Through partnerships and collaborations, we team up with local businesses, nonprofits, and organizations that share our commitment to building a diverse community. A summary of our DEI projects to date include:
Removing Barriers to Entry for Underrepresented Businesses: Starting a new business can be difficult, particularly for underrepresented and under-resourced communities. Midtown has one of the lowest commercial vacancy rates in the region yet has one of the most dynamic food cultures in Northern California. To help bridge this gap between available space and demand, and to increase equity and access, Midtown Association created the Street Food Sacramento program. This program grants an annual cohort of three food purveyors the ability to do business in Midtown. Selected grantees are able to sell their products and food at the Midtown Farmers Market and Wednesdays at Winn as well as receive technical and marketing assistance. Past winners include those who identify as first generation Americans, members of the LGBTQIA+ community, and persons of color. 
Hear more from a Street Food Sacramento Grantee here: Steady Smokin' BBQ: Street Food Sacramento 2022 Grantee | Good Day Sacramento 
Midtown Association also provides free support to any and all businesses coming into Midtown to assist them through city and county regulatory processes to become established storefronts in Midtown. To request support, learn more about advocacy services here. 
Training for Impact and Change: After forming an internal staff committee to look at DEI in Midtown, the organization prioritized offering an annual training to businesses and residents to raise awareness. In partnership with WEAVE in 2021, Midtown Association offered a Pride, Pronouns, and Progress training to educate employers on gender rights in the workplace. In 2022, Midtown Association is partnering with Level Up NorCal to offer cultural competency training. Midtown Association also offers ongoing training with the American Leadership Forum, Mountain Valley Chapter for the Board and staff on implicit bias.
Representation through Allyship: To demonstrate our support of the LBGTQIA+ community, Midtown Association in partnership with Western Health Advantage, the Sacramento LGBT Center, the Rainbow Chamber and many community champions, displays 37 pride banners along J Street from May through June for PRIDE month and has hung 10 year-round banners in the Lavender Heights district with the messaging "Love, No Exceptions, No Exclusions." The art wraps on utility boxes in the Lavender Heights District were also created using a rainbow of vegetables with the messaging "Love is in Our Roots."
Gary on the Go: Midtown celebrates Lavender Heights with brand new banners | FOX40
Equitable Food Access: In partnership with Sutter Health and Alchemist CDC, Midtown Association offers EBT programs at the Midtown Farmers Market to ensure access to healthy foods for all income levels. EBT can be used for fresh fruits and vegetables as well as some prepared foods. Alchemist CDC cites this as one of the highest use program sites in Sacramento. For those with any limitations that make traveling to the market a challenge, Midtown Farmers Market offers fresh local food delivery as well.
Showcasing Diversity through Artistic Expression: As part of the continuing "Art in Unexpected Places" initiative, the Midtown Association has led, curated, and funded artistry on 21 trash receptacles, 13 utility boxes, and 6 dumpsters that have also spurred other fun artistry to pop-up and beautify the district. With the exception of some of the past artistry projects installed years ago, the majority of the art wraps are still on display throughout Midtown. All artists selected have been selected from the LGBTQIA+ community, are women artists, or are persons that identify as of color. All artists have been encouraged to use art that represents their authentic voice and experience.
Midtown Association unveils 'Art in Unexpected Places' in Winn Park | FOX40
Celebrating Chicano & Latino History with a Basketball Art Installation at Muir Park: In November of 2022, Midtown Parks with support from Sutter Health, Sacramento Region Community Foundation, County Supervisor Phil Serna and Councilmember Katie Valenzuela, installed art-wrapped backboards and matching acrylic resurfacing on a basketball court at Muir Park that celebrates the neighborhoods rich Chicano and Latino History and amplifies the diverse history and culture of the surrounding neighborhood.
Art Installation Celebrates Chicano & Latino History in Muir Park| KFBK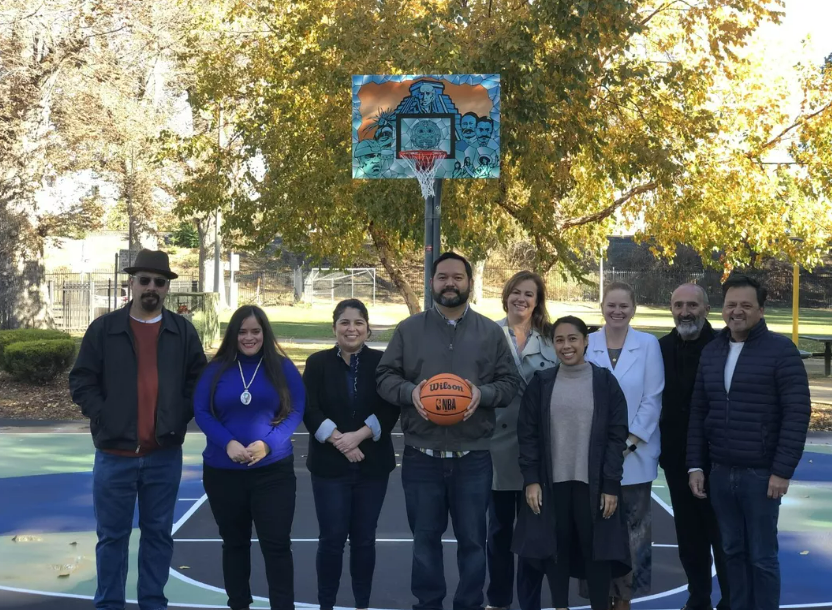 Fostering Opportunity for Underrepresented Communities: In February of 2022, the Midtown Association in partnership with Sac Black Biz hosted a Black History Month event at the Wednesday at Winn Market to showcase 21 black-owned businesses. Businesses were able to sell their products at the market each Wednesday during February, but the impact went far beyond February, with many businesses becoming regular vendors at Wednesday at Winn and the Midtown Farmers Market. 
The Midtown Association is committed to creating space for underrepresented communities to thrive and grow in our Central City. We strive to develop opportunities within Midtown that can contribute to the economic prosperity of marginalized communities. Our goal is to create a space that is safe, welcoming and allows all the opportunity to succeed. 
Follow our Midtown Association newsletter to stay updated on more events happening in our community.
---