The Ultimate Guide to Happy Hour in Midtown
March 27th, 2023
No matter what kind of day you've had, there's always a happy hour waiting for you in Midtown. From cozy taverns to lively restaurants, explore the neighborhood's best food and drink specials when you check out these happy hours at local bars and restaurants in Midtown.
Tuesday – Saturday: 4 PM – 6 PM
Home to the $5 Chambongs, 58 Degrees brings a first-class experience to happy hour. Find this wine and spirits-focused lounge in the Handle District with bites like oysters and charcuterie that pair well with your drink of choice.  
Monday: All day | 
Tuesday – Friday: 2 PM – 4 PM
Your dog's favorite wine-tasting room! Unwind with $2 off all wines by the glass at this dog-friendly spot just steps away from Truitt Bark Park. 
Monday – Friday: 2 PM – 5 PM |
BAR AREA AND FRONT PATIO ONLY
This brewery and restaurant has Spanish-inspired food to pair with beer, wine, and specialty cocktails. Happy hour here calls for their famous "frickles" + a beer pint or a grilled cheese + house wine. 
Monday – Friday: 3 PM – 6 PM
Enjoy contemporary Mexican fare & tequila-based cocktails served in a stylish art-filled setting in the heart of Midtown Central. Taquitos, nachos, and quesadillas are just $5.50 and well drinks are specially priced at $6.50 during happy hour. 
Monday – Friday: 3 PM – 6 PM
The bright and colorful interior highlights items sourced from Mexico, providing a festive and casual atmosphere. Dine on the patio for park views and take in the ambiance of the lively Midtown Sutter district.  
Every day: 4 PM – 8 PM
As one of the best gastrobpubs in the neighborhood, it's only fitting that their Happy Hour menu is a favorite in Midtown. You can't go wrong with a $5 Sake bombs and well drinks and $8 bites like the house-made Popcorn Chicken. 
Monday – Thursday: 5 PM – 6 PM | Friday: 12 PM – 6 PM
Pizza + beer go together like happy + hour! Get two whole wood-fired pizzas for just $30 — plus large pours of select draft beer are only $10.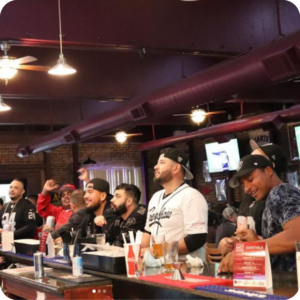 Monday – Friday: 4 PM – 7 PM
Explore $4 well drinks and $5 classic bar bites during Happy Hour at Midtown's favorite Arcade & Sports Bar. Pool tables, TVs with every sport imaginable, and over 30 arcade games are all here at Henry's. 
Every day: 3 PM – 6 PM
This hotel bar & restaurant is adorned with vintage chandeliers and swanky furniture to set the mood. Their happy hour offerings of seasonal cocktails at $8 and gourmet bites like Truffle Parmesan Fries for $7 make this a first-date favorite in the Midtown Sutter district.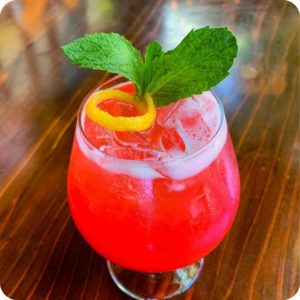 Monday – Saturday: 4 PM – 6 PM
We INK you'll love this happy hour. $3 Draft beer and $5 fried artichoke hearts are crowd favorites and a must-try at this late-night spot in the Midtown Sutter district. 
Monday – Friday: 5 PM – 7 PM
Inside this Victorian House is a neighborhood bar with a cozy living room feel. Stop by during happy hour for the $3 Craft Can Roulette — friendly bartenders will choose a random can of craft beer. Specially priced bites include Tots N Sauce and House Mac & Cheese. 
Monday – Friday: 4 PM – 6 PM
Nacho average happy hour. Limelight is a neighborhood staple in the Alhambra Corridor with signature cocktails and great eats like nachos, wings, and more. Stick around for your favorite game on the screen and fun events like Trivia on Tuesdays.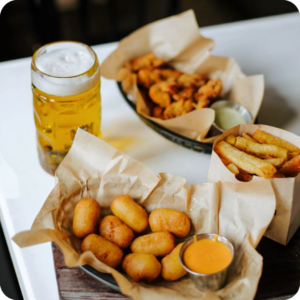 Monday – Friday: 3 PM – 6 PM |
Tuesday: All day
PROST! With a happy hour as iconic as their weekend & pop-up events, you're sure to have a good time at LowBrau. Select happy hour beers start at $2 or try a signature Bat and Ball Special for $10. Explore German-inspired bar bites starting at $4. 
Tuesday – Friday: 3 PM – 5 PM
This Midtown Central eatery brings a vibrant and authentic Mexican experience. Discover Mexican street art as you make your way through their tasty and innovative happy hour offerings including Margarita de la Casa for just $5.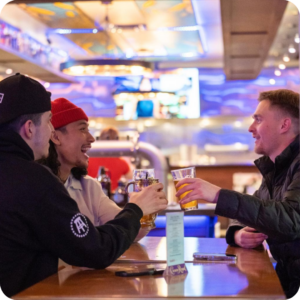 Monday: All day
| Wednesday – Friday: 3 PM – 7PM | Friday & Saturday: 10 PM – 12 AM
Midtown Gastrobar and Rooftop Lounge bring happy hour to a whole other level (see what we did there?). Get $2 off Sacrament Beer and try $5 and $6 kitchen specialties. A cocktail on the rooftop with fire pits and ambient string lights bring a unique + hip vibe to Midtown. 
Monday – Friday: 3 PM – 6 PM
Sacramento's first legal distillery is just the place to unwind. Explore cocktails and slushies featuring the distillery's wide range of spirits at special prices during their happy hour.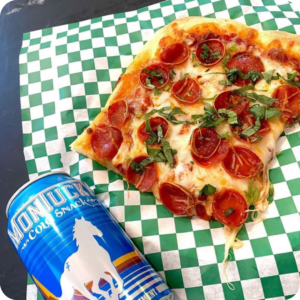 Monday – Friday: 3 PM – 6 PM
The signature square shape at this pizzeria makes pizza taste even better — but it could also be the delicious happy hour. Have a slice of cheese or pepperoni + a Montucky Cold Snack or 101 Cider for $6. 
Every day: 3 PM – 6 PM
Hop over to Midtown Sutter — Red Rabbit offers an elevated farm-to-table bar experience with rustic food and craft cocktails. Well drinks are just $8 and seasonal eats start at $7. 
Monday – Friday: 3 PM – 6 PM | Wedn
esday: All day for wine club members
Wine pairs nicely with happy hour! Bring a pal to Revolution to share happy hour bites like the Killer Bread and get a glass of the house white or red at a special price. 
Every day: 5 PM – 7 PM | During Sacramento Kings games
Guaranteed to have your favorite sports game on, this English-inspired pub is the ultimate happy hour spot. Drop in for authentic and delicious bar bites and drink specials.  
Monday: All day |

Tuesday – Friday: 4 PM – 7 PM

 
Get the flock together — Midtown Central's favorite pink house has a happy hour that is sure to take you to paradise. Select cold beer and spirits are just $5 and cocktails start at $7. And what's a visit to The Flamingo House without trying a sushi roll from WeDaShii? 
Monday – Friday: 4 PM – 7 PM
Known for stiff drinks and a funky laid-back atmosphere, TGB has a Happy Hour menu that is sure to satisfy. Chef Frank's seasonal cuisine will make you change everything you think you know about happy hour comfort food. 
Every day: 3 PM – 6 PM
Aloha vibes meets sports bar meets craft beer meets fresh kitchen. Enjoy low-cost items at three different price points for eats and drinks. Choose from bar favorites like sliders and pork nachos. 
Monday – Friday: 3 PM – 6 PM
With 40+ taps of craft beer and buy-one-get-one-free bar bites, UOB puts the APP in Happy Hour. Create your own beer tasting with $7 beer specials.
Every day: 3 PM – 6 PM
Take a pitcher — it'll last longer! The Mexican restaurant's most popular Blackberry Margarita is available by the glass or pitcher at special prices during happy hour.
Tag @ExploreMidtown on your next Happy Hour adventure in Midtown! Explore more dining options in Midtown Central and Midtown Sutter districts.