Make the Most of Your Visit to the Midtown Farmers Market
April 15th, 2022
Is it just us, or does food taste better when it's from the farmers market? More than 160 vendors line the streets of Midtown every Saturday morning for the Midtown Farmers Market. Home to fresh produce, artisan goods, and prepared food, the Midtown Farmers Market hosts the largest variety of vendors in Sacramento and consistently earns recognition as one of the best farmers markets in Sacramento and California. Located in the heart of Midtown's Lavender Heights historic district, this area is filled with bar and club goers until 2:00 a.m. and starting the next morning at sunrise. It is also home to the ultimate Sacramento Farm-to-Fork experience.
During your next stroll through the market, make the most of your visit by experiencing all that the market has to offer.
All your grocery shopping (and then some!)
 Whatever your grocery list calls for on Saturday morning, you're sure to find it at the market:
Fruits and veggies: From tomatoes and peaches to potatoes and squash, the market has your favorite seasonal and locally sourced produce year-round.
Meat, seafood, milk, and eggs: Skip the grocery store and pick up your meat cuts where they're freshest and local.
Baked goods: Whether you're bringing a pie to the potluck or are in need of a sweet treat, the market hosts over 10 vendors who specialize in baked goods.
Flowers: Brighten up your home or surprise a loved one with premade bouquets and individual bunches, picked locally. Many vendors even let you make a bouquet on site!
Handmade goods: Artisan vendors make the market special by offering handmade items like art, jewelry, soap, pottery, and more.
Come hungry!
 The rule of thumb when shopping for groceries — never shop on an empty stomach. Luckily, the market hosts a variety of food trucks with delectable bites like stroopwafels from Dutchman's Stroopwafels, tacos from Gondo Fusion and La Minerva, and more. Come hungry, leave with a full stomach and a full grocery bag.
Bring your furry friends along
Don't leave your dog (or cat) behind; we love meeting your pets out at the market each weekend and we're pretty sure they love meeting each other too. Pet treats are for sale on site and, trust us, your pup will find their way to get free samples from these spots. (Dogs are prohibited from inside certified producer tent spaces.)
Make a day out of your visit
The market is located at the intersection of 20th and K streets in Midtown, which puts you within walking distance from hundreds of Midtown's local businesses. Here are some ideas to help you plan a whole day around your market visit:
Shop confidently with EBT
The market prioritizes food accessibility by partnering with a local non-profit organization, Alchemist CDC and sponsor Sutter Health, which provides residents access to EBT benefits for use on locally grown produce and grocery items. Alchemist CDC also offers a Market Match program, an incentive, and bonus to EBT recipients to double their market dollars up to $10 every week.
Strike a pose with the iconic Midtown Farmers Market sign
Did you really go to the Midtown Farmers Market if you didn't take a picture with the iconic market sign? Snap a photo with the market sign and tag @MidtownFarmersMarket on Instagram or use the hashtag #MidtownFarmersMarket for a chance to be featured.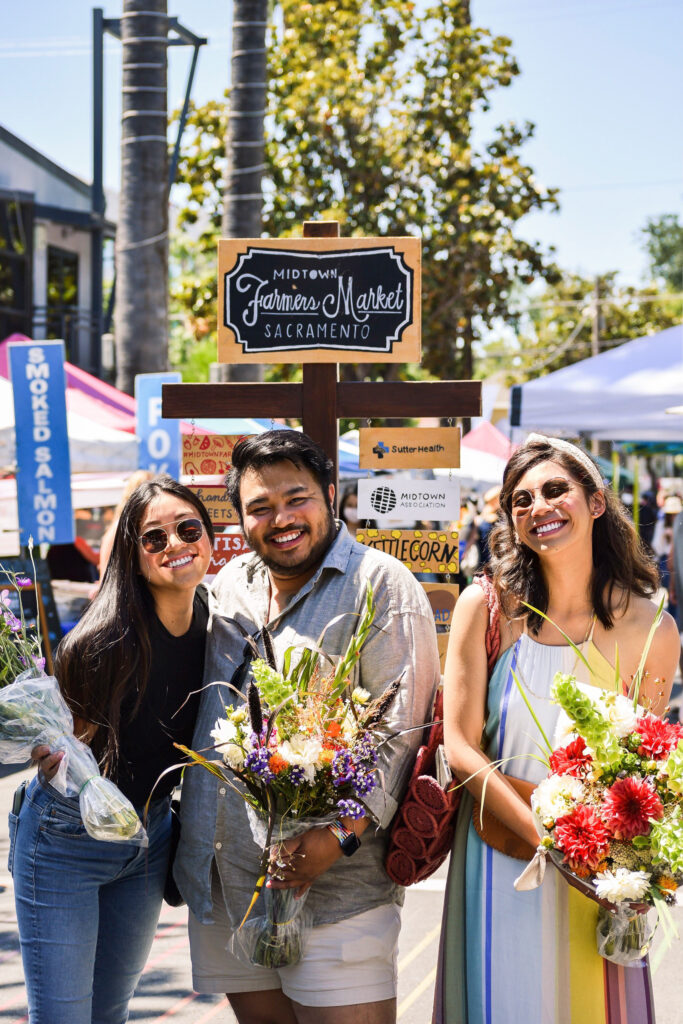 Listen to local music while you shop
Enjoy being serenaded during your market stroll in the market square with live music from local artists, thanks to SMUD!
Get around like a local 
Transportation and parking options can seem overwhelming, but there are endless options to make your visit to Midtown easy and help you get around like a local:
Grab your grocery list, reusable bag, and furry friends, and we'll see you on Saturday! For more Midtown Farmers Market information, click here or follow along on Instagram: @MidtownFarmersMarket